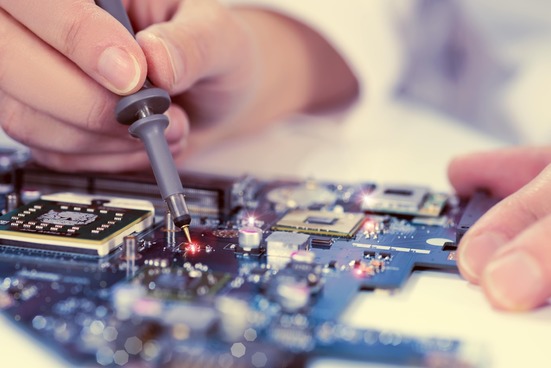 Equipment Service (Repair, Maintenance & AMC)
With having experience of 15 years in Industry and gone through a lot of challenges, with God blessings, we started in 2016 and have been growing ever since. We started as Solution Provider of Test & Measurement application, and then added Service Suport in 2021 in our Portfolio to serve & support our valuable clients.
We started focusing on the Selling of the equipment. But by the time growing, our focus also diversified & we felt the necessary of the "Service Segment" in which we try to become Value Adding to our clients. Now along with New Equipment Sales, we are equally focusing on providing Service Support as well.
We always Focus on 3S i.e. "Sales- Service- Support"
Client Satisfaction is our First Motto & Priority.
We are already serving our clients for Equipment Service in which we not only provide after sales support for those equipments that we have sold, but also to add value & to reduce cost, we also try to provide Repair & Maintenance of existing equipment that the client have already purchased from some other source. For us, the more important is to provide Support & it doesn't depends on the source of Procurement.
We have already completed Repair & Maintenance of the Test Equipments & Environment Test Chamber, and now serving our client with AMC of those equipments that was not procured through us. We hope to keep serve to our clients & making the relationship more strong.
In-House Test Lab (Testing Service)
As stated earlier, we are not only focusing for Selling of the Equipment, but always try & think to support our clients in different dimensions.
In-House Test Lab Program is one of initial to support all of our clients. We have some limited equipments available with us in the test lab, and we offers Testing Service on nominal charges.
We have dedicated team available for those to perform the tests & provides test results to the client.
Our Capabilities
We have below capability in our In-House Test (Testing Service) segment as Pre-compliance Testing.
Metrology Test Solution
3D Industrial X-ray for PCB Inspection
3D Industrial X-ray for Casting
Profile Projector
Video Measurement System
Microscope Testing
Environment Test Facility
Walk In Test Chamber Testing
Hot, Cold & Humidity Testing
Thermal Shock Testing
Thermal Cycling Testing
Corrosion Testing
Dust & IP Protection Testing
Rain & Water Testing
Vibration Test Facility
Electrical & Electronic Test Facility
EMI/ EMC Test Solution
We try to save cost & time of our client in every aspect. So no hassle if you need our services.
Just share your requirement, and send your test sample at our office & your job will done through our Professional gently.